On February 22nd, Tim Lewis, Digital Media Channel Specialist, from Lime Energy, spoke to Mrs. Queen's 5th grade science class in Huntersville, North Carolina.
The class just began studying the energy of motion and Tim discussed sources of energy as they relate the world's growing population and renewable sources of energy. To demonstrate emerging technologies in energy, Tim brought along a sOccket ball to show how kinetic energy can be harnessed and used to power small electrical devices.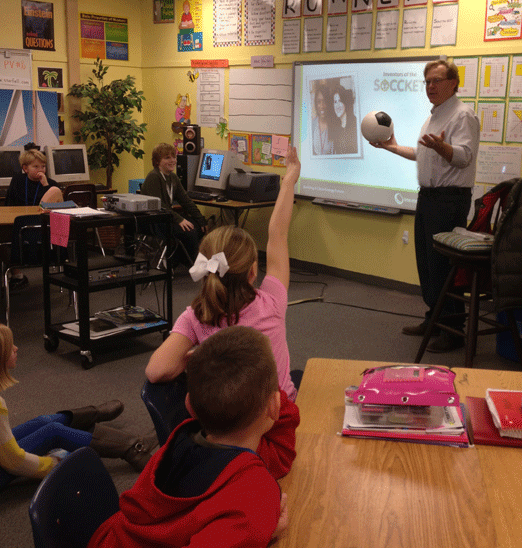 Tim talking about the sOccket Inventors & Uncharted Play Founders,
Jessica O. Matthews and Julia Silverman
The inventors of the sOccket and their company, Uncharted Play, have achieved their goal of addressing issues of global importance while injecting more joy into each day, said Tim. The kids were mesmerized with the sOccket ball and then watching it provide power to a reading lamp reinforced what a huge difference innovation and clean power can make in our global community. The 5th graders asked the best questions about the concerns of global warming, cost of energy, and consumption of fossil fuels. Their insight was amazing.
5th Grade Students at Huntersville Elementary School playing with the sOccket

To help donate a sOccket ball, go to the Lime Energy Facebook page and click "Like"!
For every 25 likes we receive, we'll donate a sOccket ball!