One Size Doesn't Fit All: Energy Efficiency for Small Businesses – Manufacturing Facilities – Part 6 of an 8 Week Series
At Lime Energy, we help utilities around the country bring energy efficiency to their small and mid-sized commercial customers.  With over 15,000 completed projects to date, we have learned a lot about the unique needs of these businesses.  Over an 8 week period, we are taking a look at several business types and uncovering their potential for energy savings.  In many cases, these businesses are eligible for incentives from their utility to cover a large portion of the project cost, making the long-term benefits of energy efficiency even more attainable.
Manufacturing Facilities:
Industrial energy use is responsible for nearly 30% of both energy consumption and greenhouse gas emissions in the United States.  The Department of Energy estimates that common plant systems use about 80% of all industrial energy and that it's possible for manufacturers of all sizes to achieve up to a 20% reduction in energy use in motors and pumps, compressed air systems, steam generation and process heating.  The following short-term and long-term solutions offer significant savings for manufacturers.
Short-Term:
Long-term:
Process heating

– accounting for nearly 1/3 of facility energy use, careful monitoring and maintenance of this equipment will have a large impact on energy savings.  Three main areas for improvement include:

Installing furnace pressure controllers to maintain positive pressure and allow less cool air to infiltrate the heating system.
Install lower flammable limit (LFL) monitoring equipment adjust ventilation rates according to system needs, which maintains safe ventilation ratios while saving energy.

Motors

– Accounting for almost 70% of energy use in manufacturing plants, improving their efficiency will dramatically reduce the amount of energy wasted.  Considerations for energy efficient motors include: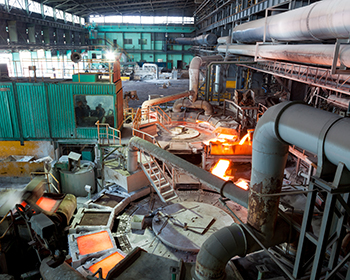 While lighting and HVAC systems are relatively small contributors to overall energy use in a manufacturing facility, they present excellent opportunities for energy efficiency upgrades that will lower costs without interfering with plant operations.  
Upgrading to energy efficient plant lighting, incorporating lighting controls, installing LED signage and redesigning parking lot lighting are all simple and cost-effective ways to reduce energy consumption.

HVAC systems also provide opportunities for reduction by minimizing air infiltration, incorporating radiant heaters, improving air circulation with large ceiling fans and deploying reflective roof coatings.
Wondering if lighting and mechanical energy efficiency upgrades can really have a big impact in your manufacturing facility? Consider this:  In the Hudson Valley, Central Hudson Gas & Electric has provided incentives to almost 70 industrial facilities within the past year, resulting in an average annual saving of 29,500 kWh and almost $4,000 per year.  From incentive programs to equipment rebates and recycling, many  local utilities like Central Hudson provide assistance in determining how best to implement energy efficiency solutions.  To learn more about programs available in your area, visit www.lime-energy.com/smallbusiness.
Sources: www.eere.energy.gov, www.esource.com, www.energystar.gov
For more on small business energy efficiency:
Part 1 – Grocery and Convenience Store Energy Efficiency
Part 2 – Retail Store Energy Efficiency

Part 3 – Automotive Dealership Energy Efficiency
Part 4 – Restaurant Energy Efficiency
Part 5 – Office Space Energy Efficiency
Part 6 – Manufacturing Facility Energy Efficiency
Part 7 – Medical and Dental Office Energy Efficiency
Part 8 – Energy Efficiency in Education