One Size Doesn't Fit All: Energy Efficiency for Small Businesses – Education – Part 8 of an 8 Week Series
At Lime Energy, we help utilities around the country bring energy efficiency to their small business customers.  With over 15,000 completed projects to date, we have learned a lot about the unique needs of small business customers.  Over an 8 part series, we are taking a look at several small business types and uncovering their potential for energy savings.  In many cases, these businesses are eligible for incentives from their utility to cover a large portion of the project cost, making the long-term benefits of energy efficiency even more attainable.
Education:  
The US Department of Energy reports that each year, taxpayers spend $6 billion on energy for the nation's schools, which is both about 25% more than necessary and more than is spent on computers and textbooks combined. Energy costs are second only to personnel costs in K-12 budgets and the EPA estimates that $2 billion can be saved by improving energy efficiency in schools. Energy is also one of the few expenses that can be cut without affecting student instruction and in fact, energy efficiency actually creates brighter, safer and more comfortable learning environments.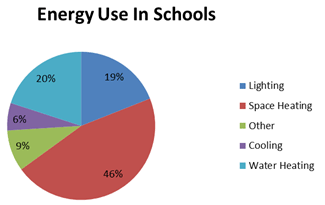 Similar to other business environments, schools have a great opportunity to implement both no-cost and low-cost options to improve the efficiency of their facilities.  Federal and utility incentive funding in many states make it possible to complete retrofit projects without significantly impacting budgets.  Often, the annual savings can be applied to other capital projects and instructional needs.  The following measures represent the greatest opportunity for schools to become energy efficient:
Turn machines off. Every 1000 kWh saved by turning things off equates to a $100 power bill reduction.
Take advantage of daylighting wherever possible.  In addition to lowering lighting expenditures, a study by the California Board for Energy Efficiency found that students exposed to natural daylight perform 20%-26% better on math and reading tests than those with no exposure to daylight.
Utilize temperature setbacks to avoid unnecessarily heating or cooling unoccupied space.
Use an economizer, which draws in cool air from outside when available and reduces the need for mechanically cooled air.
Conduct regular and thorough maintenance, including changing air filters, checking cabinet panels on roof-top units, cleaning condenser coils and checking register airflow. If an economizer is in use, check, clean and lubricate once yearly to prevent it becoming stuck in the on position, which can add up to 50% to a building's energy bill.
Replace incandescent with compact fluorescent lamps (CFLs) wherever possible to save up to $20 per lamp annually.
Retrofit T12 lamps and magnetic ballasts with T8s lamps and electronic ballasts to reduce energy use by up to 35%.
Install LED exit signs to save as much as $20 per sign per year.
Install occupancy sensors to dim or shut off in special use rooms such as auditoriums, staff lounges and storage spaces.
Implement vending machine controls that power down vending machines when a space is unoccupied to save up to 50% of their annual electricity cost.
When new equipment is needed, purchase Energy Star wherever available.  Schools that have earned the top Energy Star label for energy performance cost $0.40 less to operate than conventional schools.  (https://www.energystar.gov/ia/business/challenge/learn_more/Schools.pdf)
Consider demand-controlled ventilation, in which carbon dioxide sensors monitor occupancy in real-time and adjust the amount of air being supplied to a space based on occupancy.  As the fans only run when outside air is needed, less energy is consumed.
For a detailed review of these measures and their application in your learning facility, schedule an energy audit with a qualified contractor today.  From incentive programs to equipment rebates and recycling, local utilities may provide assistance in determining how best to implement energy efficiency solutions.  To learn more about programs available in your area, visit www.lime-energy.com/smallbusiness.
For the Environmental Protection Agency's Energy Efficiency Programs in K-12 Schools Guide, please visit https://www.epa.gov/statelocalclimate/documents/pdf/k-12_guide.pdf.
For more on small business energy efficiency:
Part 1 – Grocery & Convenience Store Energy Efficiency
Part 2 – Retail Store Energy Efficiency

Part 3 – Automotive Dealership Energy Efficiency
Part 4 – Restaurant Energy Efficiency
Part 5 – Office Space Energy Efficiency
Part 6 – Manufacturing Energy Efficiency
Part 7 – Medical and Dental Office Energy Efficiency
Part 8 –  Energy Efficiency in Education